Celebrate wonderfulness with a beautiful dried flower arrangement, posh red wine, delicious gourmet chocolate, aromatherapy "Calm Balance" bath soak and pulse point as well as a lovely organic eye pillow are all part of the complete package in this pampering hamper. What a way to pamper your lovely mum, mother-in-law, gran or wife!
Beautifully presented in our luxury keepsake gift box with an optional free Hamper Tree "Take a Moment" Greeting Card.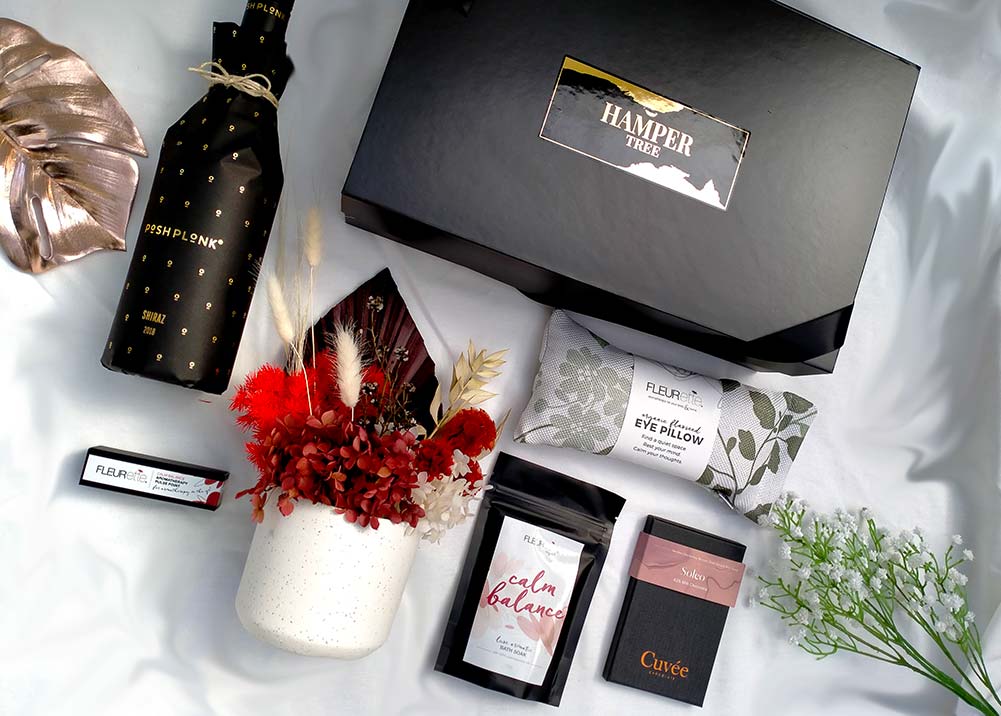 This hamper contains the following delicious Australian products:
FLEURETTE
Organic Flaxseed Eye Pillow
Calm Balance Aromatherapy Pulse Point
Dried Flowers - Red and White Arrangement
POSH PLONK
CUVÉE CHOCOLATE
Soleo - 42% Milk Chocolate
We are sorry, but it appears we have sold out of this particular hamper. We will be restocking very soon so please check back.
SOLD OUT
What's inside ...
---
This hamper is filled with the following tasty delights
FLEURETTE
Calm Balance Bath Soak (150g)
A well-rested body produces a beautiful heart. Calm the senses and enjoy a warm, comforting bath with regulating geranium rose and soothing wild chamomile. This bath soak is free from flowers, petals, artificial colours and fragrances.
FLEURETTE
Organic Flaxseed Eye Pillow ()
This unscented eye pillow is made with organic flax seed (also known as linseed) to help apply gentle yet effective pressure to the eyes and forehead.It comes with a removable inner that can be scented with a favourite essential oil blend OR enjoyed unscented.The simple act of putting an eye pillow on the forehead and eyes can help to lower tension, relieve eye strain and calm thoughts.
Dried Flowers - Red and White Arrangement ()
Gorgeous dried flower arrangement in vase.
POSH PLONK
2018 Shiraz (750ml)
This single vineyard Shiraz is ruby red in colour, with strong purple hues. Aromas of blackberry, plum, chocolate and oak on the nose.On the palate a fine balance of flavours and intensity. Full bodied. Plum and blackberry dominate the palate, with subtle white pepper elements, balanced beautify with layers of sweet and savoury spice. Supple tannins promote a beautiful elegant finish, underpinning the depth and quality of the wine.
CUVÉE CHOCOLATE
Soleo - 42% Milk Chocolate (70g)
Soleo humbly begins with carefully selected cocoa sourced from the island of Makira in Oceania. Beans fermented and dried under the supervision of one man, Lenard Nahurua. Continuing with the meticulous care taken by another during roast and conching… Melbourne Chocolatier Deniz Karaca. The two men combine their craftsmanship into a milk chocolate like no other. Soleo impresses with an unparalleled level of smoothness, strong hints of caramel and an ever so slight nuttiness, making it one of our favourites.
FLEURETTE
Calm Balance Aromatherapy Pulse Point ()
This Calm Balance Pulse Point is a soothing, comforting blend of rose, geranium with gentle whispers of chamomile to calm down, reassess a situation and find a positive solution. It is safe to apply directly to the skin and is conveniently sized to fit into any handbag. It is also effective enough to help soothe relieve nervous tension and alleviate feelings of stress. SCENT PROFILE: A rosy, floral, warm and herbaceous scent with soft, fragrant highlights of fresh blooms.
Please note:
Whilst we do all we can to place the above products in your chosen hamper, it might not always be possible to provide the products due to supply restrictions. Should a product not be available we will endeavour to replace it with an item of equal or greater value.